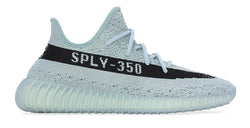 Adidas Yeezy 350 'Salt'
Description: Adidas Yeezy is a fashion collaboration between German sportswear company Adidas and American designer, rapper, entrepreneur and personality Kayne West. The collaboration has become notable for its high end limited edition colour ways and general releases offered by the Yeezy Boost sneakers line up.
Size Guide: Please go half a size up or a whole size up on these, as they fit tight.
Shipping Time: 1/4 Day Delivery.